Increasing evidence indicates that start-ups should develop their human capital strategies before their first hire. But given other priorities – including short-term financial pressures, lack of knowledge and/or investors emphasizing other needs – both entrepreneurs and investors give this topic cursory treatment at best.
The Hitachi Foundation (THF), which was active from 1985 through the end of 2016, focused on business practices that both measurably improved economic opportunities for low-wealth individuals and enhanced long term business value. THF engaged Broughton Consulting, LLC to develop a curriculum that business accelerators can use with early stage businesses to help them develop operational excellence and smart human capital strategies much earlier in their lifecycle than is usual. The Human Capital Advantage: A Curriculum for Early Stage Ventures, is the result.
Field tested by early stage ventures and reviewed by impact investors, The Human Capital Advantage Curriculum is composed of five modules which contain a mix of management best practices (an intentional focus on organizational culture, participatory management practices, emotional intelligence 101), and more nuts and bolts information about specific practices (such as hiring, onboarding, providing better than basic benefits, and building a learning organization).
The curriculum is highly fluid and may be adapted based on the needs and stage of the particular cohort being trained. It is applicable to all businesses, but contains optional content specifically geared towards businesses that employ hourly/frontline employees. It is written with a U.S. focus, but can be adapted to an international audience. The curriculum is open source and the Guidebook provides specific instruction for trainers using the curriculum.
Click on the links below to download the Guidebook and the Curriculum modules (each contains an agenda, a PPT presentation with extensive notes, and exercises).
Online Course for Social Enterprises
THF and Broughton Consulting also worked with +Acumen to adapt the The Human Capital Curriculum into an online course for social enterprises. Learn more at http://www.plusacumen.org/courses/human-capital-strategy- social-enterprises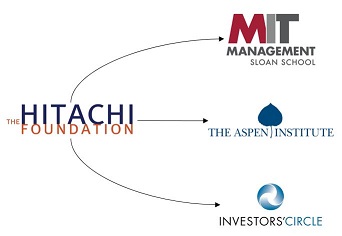 In 2016, upon its closing, The Hitachi Foundation launched the Good Companies, Good Jobs Strategy by embedding the Foundation's intellectual, financial and people assets in three complementary organizational homes: the Aspen Institute, Investors' Circle (IC) and MIT's Sloan School of Management.