About This Project
Anne-Claire Broughton serves as a contract coach with The Great Game of Business, the originators and thought leaders around open book management. Open book management is a business operating system that teaches employees at every level to think, feel, and act like owners.
Select GGOB clients include SuperSuds, a company that operates 24 laundromats in Virginia, Maryland, Delaware, and Pennsylvania; ShopBot, a leading manufacturer of CNC (Computer Numerically Controlled) routers located in Durham, NC; Graphic Visual Solutions, based in Greensboro, NC, offers clients solutions including printing, labels and packaging, digital printing, wide-format graphics, direct mail, fulfillment and design; Black Sheep Agency, a cause-driven marketing, brand strategy and design agency based in Houston Texas; HLB Lighting, an internationally recognized design firm focused on architectural lighting for all interior and exterior environments; the Evergreen Cooperatives, a network of worker cooperatives in Cleveland, Ohio that includes two green and sustainable commercial laundry facilities and a hydroponic greenhouse and employs more than 200 individuals; Citu, a sustainable urban property developer developer in Leeds and Sheffield, England with 120 employees; STS Education, a provider of education and learning solutions based in Simi Valley, CA with 63 employees; Chillibreeze, a network of purpose-driven companies in Northeast India with 154 employees; Russell and Abbott, a provider of residential and commercial HVAC services based in Knoxville, TN with 35 employees; and Counter Culture Coffee, a specialty coffee roaster and certified B Corporation sourcing exceptional single-origin and specialty coffee based in Durham, NC with 120 employees.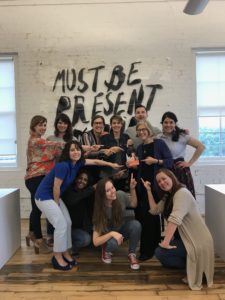 Black Sheep Agency at their GGOB all-team launch. They bring 100% to whatever they do and have been a great client to work with!